Professionals giving the commentaries:
Michael Redmond 9 Dan, Yamada Kimio 8 Dan, Takao Shinji 7 Dan
If you'd like to see a sample by Michael Redmond 9-dan, please download the (new version) PANDA-EGG EGG405b-English.exe. This client for IGS is free.
1) How to set PANDA-EGG for Game Commentaries:
If you have not already installed PANDA-EGG Version 4.05b with the Game Commentary function, please click on the URL below and download the setup program to your computer.
ftp://ftp-igs.joyjoy.net/Go/igs_clients/PC/EGG405b-English.exe
When the download is finished, double click the EGG405b-English.exe and execute the program to install the PANDA-EGG.
2) Sample game commentary (by Michael Redmond 9 dan):
When the setup of PANDA-EGG is finished, please open your browser and click on the URL below. Your browser will automatically start the PANDA-EGG client and the game commentary will begin.
http://service.joy.ne.jp/cgi-bin/panda/pandalib-us?001-rgis


(PANDA-EGG client showing game commentary)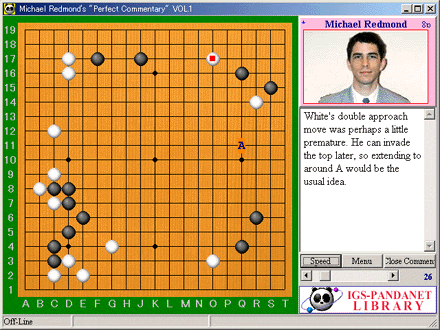 Once you have viewed a commentary, it is stored in PANDA-EGG's "Replay stored game records", so you can view them again even after disconnecting from the internet. NOTE: Click on "Close Commentary" to continue to the next commentary. Select the "Menu" to control the playback speed.
If you wish to subscribe to this service every month, the "IGS-PandaNet Mail Magazine" is mailed three times a month, giving a total of six game commentaries. The subscription fee is only 500 yen a month.
The Subscription form is located at:
http://www.pandanet.co.jp/magazine/subscribe-e.htm
IGS-PandaNet Office, Panda Net Inc.
panda-e@joy.ne.jp
The PANDA-EGG can be used for both the "IGS-PandaNet Mail Magazine" and for playing and observing live games on IGS. A manual for the PANDA-EGG is available at pandaegg.html