I go to the Paris Tournament which is held during Easter holiday, every year.
Spring in Paris, with the marronnier flowers colorful against the blue sky, just walking around makes me feel happy. Paris is a cheerful and wonderful city which naturally makes you feel pleasant.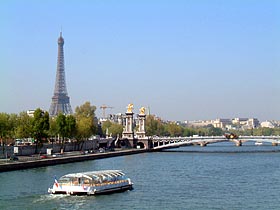 As in Italy, this time of the year, there are some public holidays so schools and offices have about 2 weeks spring vacation. Usually, a lot of people use this holiday to go back to their own home town or go to the mountain or to beaches to enjoy their vacation.
It was the 29th or the 30th Paris Tournament this year. (There have been arguments due to the vagueness of the past records. Very typically French, great isn't it?) This tournament is very lively with a lot of people who take short holidays gathered not only from France but also from outside France. This year 270 people participated, 50 people more than last year! Perhaps, I think this is the biggest Go Tournament held in Europe during week-ends.
It was held at Marie (district office) of the 13th district in Paris.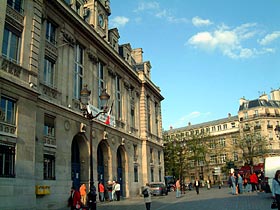 ' Among all the district offices in Paris, it is the most historical with beautiful architecture.' I am talking so proudly of the district office, but it is truly beautiful. It was as if I was in an art gallery. As I walked in, in front of me, there was an antique tapestry and on the ceiling, a gorgeous chandelier with angels flying happily (of course, a painting) made me enjoy looking up. I have visited many tournaments before but it was the first time to visit such a gorgeous place with such an atmosphere. I was very impressed.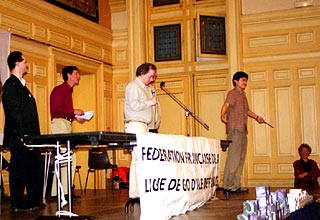 The winner, Mr. Fun Hui, a professional 2 Dan, won all the 6 games. He is a nice young man who studies at university in France and teaches Go and participates in tournaments. He won the Paris Tournament last year as well. It was a high level tournament.
A lot of the participants took notes about their games and I found many of them considering how they played after the games. They are so enthusiastic. I was too busy with commentary after the games that I did not even have time for lunch!
I enjoyed fully the atmosphere of Paris and the 3 days of the tournament made me feel very complete.