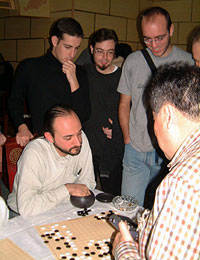 Since the Go Club at the Mathematics club of Barcelona University started 2 years ago, the number of Go players, mainly students, has been increasing.
The Go club is supported by a very strong Go player, Mr. Sanchez Cesar, 4 dan, the president of the Spanish Go Association and his party. Also, there is a group, MOYO Association, whose activities are to popularize Go to beginners and children. Even though those groups' direction of activities is different, there is a wonderful environment to carry out those activities and they cooperate with each other. And those activities are helping to popularize Go gradually.
I am looking forward to visiting Barcelona again.