In the first game both sides calmly tried to surround territory. In the second example the players want to fight and try to capture each other's stones.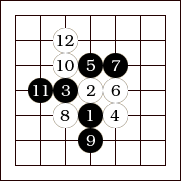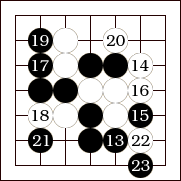 Diagram 6: (moves 1 - 12) White tries to complicate the game and create fights by cutting the two armies into smaller groups that threaten to capture each other.
Diagram 7: (moves 13 - 23) The battle continues. With each move the players try to expand the area they control while threatening to capture some opposing stones. Now the Black stone 15 is about to be captured.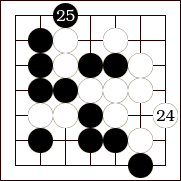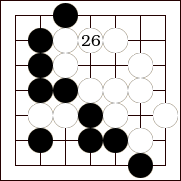 Diagram 8: With move 24 White captures a Black stone, which is removed from the board. Black 25 threatens to capture two White stones.
Diagram 9: White replies with 26, capturing two more Black stones and saving the White stones that were in atari. White keeps the three captured Black stones by the side of the board, to be used later in counting the score.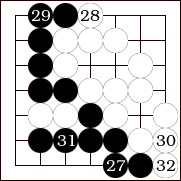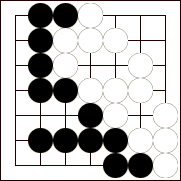 Diagram 10: (moves 27 - 32) The fighting is over and the players fill in the last empty spaces (called dame) between their armies. After move 32 there is nothing more to be done. Note that two White stones are trapped behind the Black wall. Black does not need to play another move to capture these stones because they no longer can make any threat. As you will see, it will be bad for Black if he does capture!
Diagram 11: After both sides have passed, it is time to count the score. First Black removes the two dead White stones from the board, to give this position.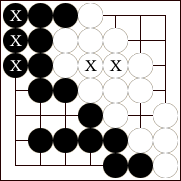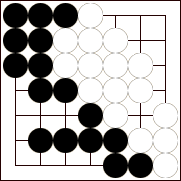 Diagram 12: Next the players place the stones they have captured inside their opponents' territory. The three captured Black stones and the two White stones just removed at the end of play (marked with X's) are placed back on the board, inside area surrounded by the same color. See how the captured stones reduce the surrounded territory.
Diagram 13: In the final position Black surrounds 9 points and White surrounds 8, so Black wins by one point. Note that if Black had captured the two White stones during the game, Black would have one point less and would not have won the game.