The New IGS-PandaNet Rating System
Starting the 1st of April 2005 a new rating system will become operational on IGS-PandaNet.
We expect the new rating system to be more acurate and clearly defined and thus easier to understand.
Table of contents
1. Since the new rating system is more precise the correct handicap can be determined more precisely
Since the computer calculates your exact rating you can determine the proper handicap more correctly. In the old system there are two variations of a 3-dan player, either 3d (unrated) or 3d* (rated). In the new situation you will have three: 3d? (unrated), 3d (rated) or 3d+ (rated). The 3d* rank has been divided into two finer grades: 3d (normal) and 3d+ (strong):
old system
new system
rated
3d*
3d+
3d
unrated
3d
3d?
In the old system a difference of one level in rank means one stone handicap. However, in the new system the handicap can be set more precisely:
new system
rank
difference
correct handicap
0
0 stones, 6.5 komi for white
0.5
0 stones, 0.5 komi for white
1
0 stones, 5.5 komi for black
1.5
2 stones, 0.5 komi for white
2
2 stones, 5.5 komi for black
2.5
3 stones, 0.5 komi for white
3
3 stones, 5.5 komi for black
...
8.5
9 stones, 0.5 komi for white
9
9 stones, 5.5 komi for black
2. Once you've finished a game, your new rating will be immediately visible
In the old system the rating points of all players were calculated once a day. In the new system your rating is updated after every game. When you win a game your rating will go up immediately, when you lose the rating will go down. Your rating graph will be updated once a day (05:30 Japanese time) using all information up to that point.
3. A new promotion/demotion system will be used
In the rating system a new strategy for promotion and demotion will become effective. In the old system the threshold for promotion and demotion was the same. In the new system a so called "border zone system" will be adopted. This will prevent that ranks change all the time while winning and losing games. (also refer to the promotion/demotion bar table).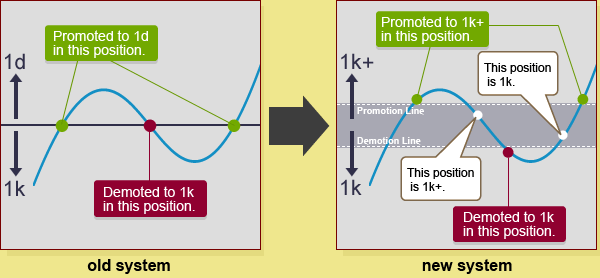 4. When the new rating system becomes operational your current rank might change
Your current rank might be modified once the new system takes effect. The ranks between 7k and 28k will be modified to fit into the new ranking range of 7k to 22k (which will be the lowest rank in the new system). All ranks 6k and stronger will not be affected. (also refer to the Table of rank change table).
5. A special beginners-class is introduced for starting players
The lowest possible rank in the new system is 22 kyu, but a special beginners-class will be established below that rank. The beginners-class rank will be indicated with "BC". You promote from the beginners-class once you've established 5 victories, no matter how many games you've lost. This system will ensure that beginners can enjoy games even when they've just started playing.
6. About the increase and decrease of your rating when proper handicap is used
Until now the fluctuation in rating could be different in a game between two equally ranked players since it depended on the rating of the opponent as well. In the new system, given the same rank and the game is played on even, the fluctuation of the rating will be the same for both players. In addition, when the game is played with correct handicap the rating fluctuation will be exactly 100 points per game. This should make the system easier to understand for you, especially predicting the moments when you can expect promotion.
7. About the increase and decrease of your rating when you don't play very often
When you don't have a lot of rated game results yet the rating will change more rapidly to allow the system to adjust your rating to the correct level a little faster.
weight of game result on rating
rated games
upper/lower bar
0 - 20
system estimation
21 - 50
150%
50 - 100
120%
100 - ...
100%
8. About the increase and decrease of your rating when incorrect handicap is used
When you play games with an incorrect handicap the rating adjustments are done according to the figures in the table below:
games with incorrect handicap
rank
difference
stronger
wins
weaker
wins
0
±100
±100
0.5
± 92
±108
1
± 84
±116
1.5
± 78
±122
2
± 72
±128
2.5
± 68
±132
3
± 64
±136
So, if you should have given handicap 2, but you play even and lose you will lose 128 points (instead of the normal 100 points). In case you win that game you gain 72 points (instead of 100 points).
9. Self-estimated ranking
New (unrated) players have to make a fair estimation of their rank. The computer will adjust your provisionary rating with every game you play and adjust your ranking accordingly. Until 20 valid rated games have been played the ranking will be provisionary and a "?" sign is attached to your rank. Also self-estimated ranks will fluctuate with every victory or defeat.
10. Games which are not used to calculate your rating
Your rating is not affected by the following type of games:
Games against players with a provisionary rank (for example: 3d?).
Games against players over 3 levels stronger or weaker
(unless the game is played with proper handicap, in that case it will be rated).
Games less than 4 moves.
Games played against professionals (p attached to their rank).
Pair-Go games.
Games on board sizes other than 19x19.
Games played in the free room.
---
Supervision: Yasei HIRAMOTO 6-dan
International Patent Pending PCT

[ IGS-PandaNet frontpage ]

Copyright (©) 2005 PandaNet Inc. All rights reserved.