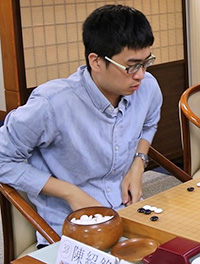 The 24th Internet World Amateur Go Tournament Champion
ID : kellllly(Mr. CHEN, SHAO MING) Congratulations !
●Comment
Thanks to the host and every opponent , I think maybe I have a liitle more lucky to win the contest.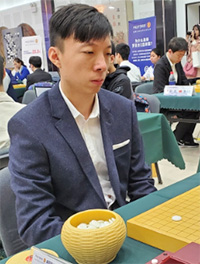 The 24th Internet World Amateur Go Tournament Runner-up
ID : lanmei(Mr. Yu Lu) Congratulations !
●Comment
I am from AnHui Province,AnQing City of China.
My real name is 路玉.My English name is Yu Lu. Now,I go in for studying pure mathematics and like Go game. I am an amateur Go player who is 7 dan.
At ordinary times,I often read Go books
and I play Go game on Tencent WeiQi Net with others or PANDA NET
on line to improve my level of Go game.
I am looking forward to make friends with people all other countrys or zones.
Tournament Outline
There is an open class and dan/kyu classes. Players will qualify for each class through preliminary rounds. The final round in the open class is 16 players and 8 players each in the dan/kyu classes.

Organiser: Pandanet Inc.
Sponsorship: The International GO Federation
Special cooperation: World Pair Go Association

< Classes >
There are five categories. One is the Main Class and the others are Ranked Classes (A-C Classes).
• Main Class (You can participate in the Main Class regardless of your Go strength.)
• A Class (5-dan~2-dan)
• B Class (1-dan~3-kyu)
• C Class (4-kyu~7-kyu)
• D Class (8-kyu~)
*If you are 6-dan or above, your class will automatically be the Main Class.
*People who hope to participate in the A~D Classes and have not had their Pandanet rank confirmed need to play at least 20 games and to have their rank confirmed by July 21. If a question mark appears next to the rank, it means the rank has not been officially confirmed by Pandanet.
* Participants will play with the rating as of July 22 (6 a.m., Japan time).Your class will be decided according to your rating.
* Your rank will shown inside the room on the day.
* This year we are not holding regional preliminaries or regional tournaments.
*Players who have reached the final round from the 20th tournament on will be seeded into the class above from the following year or into the class for their current rank, whichever is higher. Players who reached the final round of A class will compete in the open class from the following year on.
< Playing Rules >
Time allowance
The time allowance is 10 minutes per side,
with overtime of 25 moves every 15 minutes
Playing Conditions
All games are played on even,
with Black giving a komi of 6.5 points
Color
Colors are determined by the system automatically
< Preliminary Rounds >
• In the playing rooms for each class in the preliminary round, players will play freely and must play at least six games within the designated period (games with the same opponent will not be counted). • Placings will be decided by the following method.
• In the open class, 16 players will qualify for the final round and 8 players each in the other classes.

The ranking is determined by points in descending order.
1. Points = W / N + W x 0.02 (W = number of wins, N = number of games played)
Example: you win 3 out of 6 games, you collect 3/6 + 3 * 0.02 = 0.56 points.
Example: you win 4 out of 8 games, you collect 4/8 + 4 * 0.02 = 0.58 points.
2. With tied points, the player with the higher number of wins is ranked higher.
3. With tied points and wins, the player with higher number of SOS (sum of opponents' scores) is ranked higher.
4. With tied points, wins, and SOS, the players are ranked equal.
< Final Rounds >
• In the Final Rounds, single eliminations are played until a champion is determined.
• The pairings will be decided by the office by drawing lots.
• In all classes, all rounds are rounds with mixed groups.
•
On the tournament day, games will be played within the specified time at the time agreed to by both players and will be conducted in the specified room.
•
Regarding the dates and times for Final Round games, please contact your opponents directly on the 'Net social plaza' page. In principle, please use Japan Standard Time (JST) when deciding the dates and times.
*NOTE: JST=UTC+9.
Schedule
May 31(Fri)~ July 17(Wed): enrolment period
August 1(Thurs)~ August 15(Thurs): preliminary round
September 11(Wed)~ October 8(Tues): final round
Final Rounds Schedule (All Classes)
Date
Main Class
A-D Classes
Sept 2 (Mon)
Pairings will be updated on the Pandanet web site
Sept 11 (Wed) – Sept 17 (Tue)
1st round
-
Sept 18 (Wed) – Sept 24 (Tue)
Quarterfinals
Sept 25 (Wed) – Oct 1 (Tue)
Semifinals
Oct 2 (Wed) – Oct 8 (Tue)
Finals
*JST=Japan Standard Time (GMT+9)
CET=Central European Time (GMT+1)
PST=Pacific Standard Time (GMT-8)
< Requirements for Participation >
Participants must be amateur Go players.
Participants must be able to communicate by email in English.
People who hope to participate in A~D Classes and have had their ranks confirmed by Pandanet need to play at least 20 games and to have their rank confirmed of by July 21. If a question mark appears next to the rank, it means that the rank has not been officially confirmed by Pandanet.
Participants in the Main Class are not required to have their rank verified.
Players in the BC (beginner class) are not allowed to participate.
< Notes >
All games must be exclusively played on the Pandanet server. Please use Pandanet's official client GoPanda2 or Panda-Tetsuki. (Panda-Tetsuki is for iOS and android.)
Please play in the official Pandanet tournament room.
Please play games by yourself. Taking advice from a third person or playing by a third person is against the rules.
In principle, your games should be played from your home. Please let the organizer know in advance in case you want to play at a location other than your home, such as a Go club where many people gather. The organizer may check the origin of your Internet connection.
If you lower your rank intentionally by losing games before the tournament, you will not be allowed to participate.
Please exchange greetings when starting and finishing your games. Insulting comments are strictly prohibited. If you are treated impolitely, please let the organizers know.
Please resign the game if you think there is no hope of winning, instead of dragging out the game.
Likewise, please don't tell your opponent to resign, even if your opponent is clearly losing. However, please let the organizers know if your opponent keeps playing useless moves and does not finish the game.
If the organizers find out that you have violated the rules, you may be disqualified, even if the game result has been confirmed.
In the finals, please contact the office as soon as possible if for unavoidable reasons you become unable to play on the appointed day.
Participation Fee
Prizes
Main Class
Winner
1. The 24th Pandanet Cup Internet World Amateur Go Tournamentant Champion title will be awarded by Pandanet.
2. JPY 100,000
Runner-up
1. JPY 50,000

3rd to 16th place
Prizes will be awarded.

Ranked Classes (A-D Class)
1st to 8th place
Prizes will be awarded.