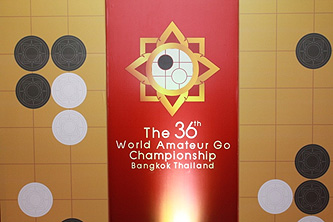 The 1st edition of the WAGC was held in 1979 in Tokyo, Japan and since then Japan hosted 30 more editions of this great event that gathered between 50 and 70 participants each year.
In 1987 China was chosen for the venue of WAGC and later 2 more editions were held in China in 2010 and 2012, Korea was the host last year in 2014 and this year the location for this championship was Bangkok, Thailand one of the most exotic places to visit for any go player and not only.
The 36th WAGC was held at Montien Riverside Hotel in Bangkok and all the players and officials had accommodation here and all the 8 tournament games were played in the hotel's ballroom.
http://montien.com/riverside/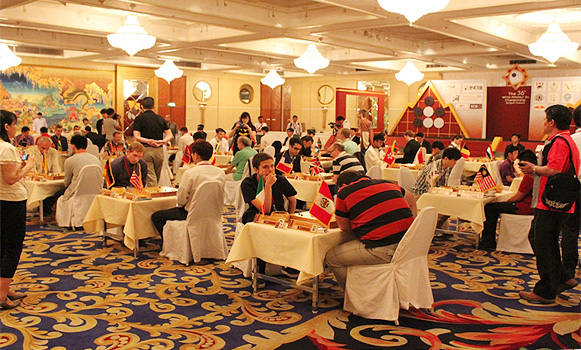 In this year's edition there were 57 players representing 57 countries and territories from 5 continents all over the world.
There were 14 players from Asia , 33 players from Europe, 7 players from Americas, 2 players from Oceania and 1 player from South Africa competing for the World Amateur Go Title in Thailand.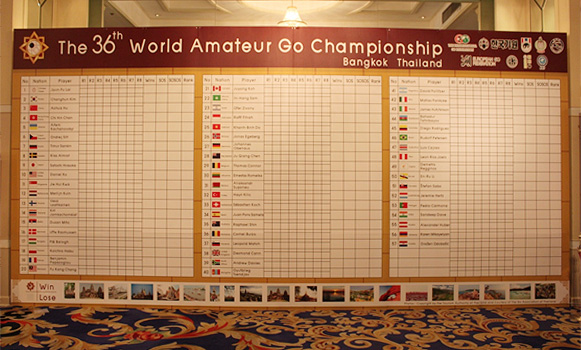 Pandanet was the main Go server who covered this special Go event with game records and photos during the entire tournament.
For final standings and game kifu you can check this link:
http://www.pandanet.co.jp/event/worldama2015/live_e.htm
Photos can be found here :
http://www.pandanet.co.jp/event/worldama2015/photo_e.htm
The schedule of this great Go tournament was pretty tight and time flies fast when one is busy with playing Go and visiting amazing places such as Bangkok.
Most of the players arrived on Friday June 5th and checked in the hotel then registered for the upcoming events.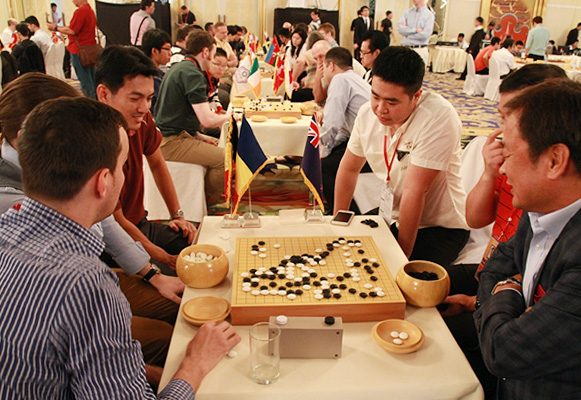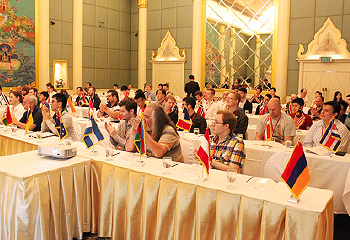 On Friday June 6th in the afternoon we have a triple go event ( rengo ) which is a friendly match and helps the players to socialize and get familiar with the playing conditions.
Later in the afternoon all the players had to take part in the general annual meeting of IGF ( International Go Federation ) as delegates for their countries.
In the evening of June 6th the Opening Ceremony of the 36th WAGC was held in the hotel's ballroom and after official welcome speeches and a few entertainment shows the players could find out the pairing for the 1st round and also have a great buffet dinner party.
The games were played each day from June 7th till June 10th starting 9.30 and 13.30 with 2 rounds/ day for a total of 8 games.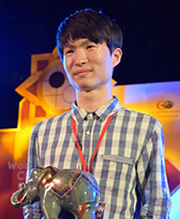 The tournament was won by the Korean representative Changhun Kim 6d with a perfect score 8 wins out of 8 games.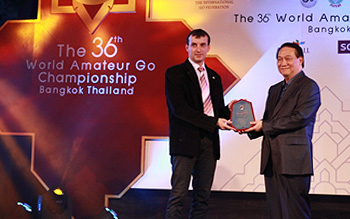 As the Romanian representative and one of the top European players my goal in this tournament was to finish top 10 and I am glad I managed to get 6th place in this WAGC with 5 wins (vs Finland, Slovenia, Russia, Hungary and USA) and 3 losses ( vs Japan, China, ChineseTaipei )
In the last round I lost by 0.5 a dramatic game that took over 300 moves against Taipei's prodigy Jyun-Fu Lai and failed to finish 4th in the tourney but it's still great that I came in the top as the first westerner player after Korea, China, Chinese Taipei,Hong-Kong and Japan.
In hope for a better performance next time let's have good games online on Pandanet and be happy !
Cornel Burzo